L. Rushton Rice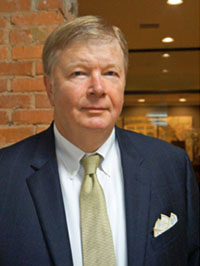 (334) 262-1035 office
(334) 652-3583 cell
rush@riceadvisory.com
Rush Rice, President of Rice Advisory, is an investment banker with 35 years of finance experience. In his career, he has been responsible (as senior manager or financial advisor) for more than 500 closed financings totaling over $12 billion in par amount. These have included tax-exempt and taxable bond issues, bank financing packages, tender offers, mergers, acquisitions and equity syndications. In his investment banking career Rice has served a very diverse array of clients, including private sector clients from multiple industries, state government and related issuing authorities, cities, counties, universities, utility systems, school boards and many others. Since 2014, Rice has served as financial advisor on 15 State of Alabama financings totaling almost $3.3 billion in par amount.
Over the years Rice has developed a nationwide practice serving the solid waste industry. He has been the primary banker or financial advisor on 60 solid waste transactions totaling $907 million and has completed solid waste financings in 18 states. His clients have included public companies such as Waste Management, Waste Connections and WCA Waste Corporation, plus numerous privately held corporations and municipalities. He has served as a consultant and advisor for a number of solid waste investors, from major institutional investors such as Nuveen Asset Management and Oppenheimer Funds to smaller institutions, banks, corporate trust operations and high-net worth individuals.
Rice's knowledge and experience as a public finance banker, combined with his understanding of the solid waste industry (developed not only as a financier but as an owner and operator of waste companies) have enabled him to be a valued adviser to municipal governments confronting challenges in the waste sector.
Rice co-founded a number of businesses in the solid waste, telecommunications and real estate sectors, serving as CFO and completing equity syndications in each instance. Prior to entering the investment banking business, he spent five years working as a commercial lender for two Alabama-based commercial banks.
Rice is a 1984 graduate of the University of Alabama. He holds the Series 54 license (Registered Municipal Advisor Principal), Series 50 license (Registered Independent Municipal Advisor) and previously earned professional licenses consisting of Series 7, 24, 53 and 63 (inactive).
Where to Find Us
Montgomery Office

250 Commerce Street, 3rd Floor
Montgomery, AL 36104

334-262-1035 office


334-652-3583 cell


334-240-0409 fax
---
Why Hire a Financial Advisor?